Garlich Printing Awarded the Premier Print Award's Best of Category
Once again, we claim the treasured "Benny" for our work with Maritz Motivation in the creation and manufacture of the 2012 Acura Program Announcement!
Mouse-over for info on what the "Benny" is…
This very special project combined sharp design with challenging finishing and spectacular printing using our signature spot gloss/dull Hybrid U.V. effects.
Production Notes:

Cover is a combined 4-color Hybrid U.V. with Metallic Green PMS & Dull Varnish.
Interior features 4-color Hybrid U.V. with Spot Dull Varnish and Overall Gloss UV Coating.
Meticulous attention was demanded in the creation of the various gloss and dull effects throughout, and numerous full-bleed pages with cross-gutter elements required the utmost pressmanship and finishing acumen.
Finishing combines Silver Foil Stamping, Scoring, Embossing and die cutting with round corners and saddle-stitching of this 16-page self-cover catalog.
Because of the numerous separate finishing techniques, extensive planning up front and quality control at each successive stage were a must!
Printed on 80# Boydun Gloss Cover.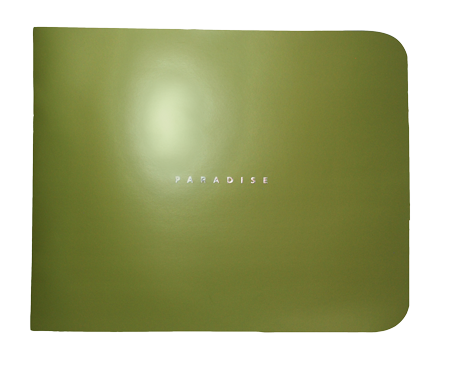 Example Spot Gloss/Dull achieved via
Hybrid Dull Varnish and UV Coating…