Actually, it is how you begin...
At Garlich, taking care of all your prepress needs ensures that your job will print smoothly and flawlessly. Garlich's prepress department consists of an experienced team of professionals using state-of-the-art equipment. As technological advances occur, we continue to enhance our capabilities to provide you with the best possible service capable of handling a wide variety of files — Mac or PC. Garlich's prepress department enables:
Internet files transfer of graphic files
High quality color seperations, halftones, tritones and quadtones
Image retouching, special effects
State-fo-the-art electronic page assembly and pagination
Finelly calibrated color proofing
Remote Proofing with InSite
Electronic Prepress Equipment and Capabilities
InSite Proofing System: InSite is a web based proofing and uploading system developed by Kodak. Customers can use their web browser to upload and approve PDF files. InSite is accessed across the internet through a secure connection. The uploaded PDF files process in a matter of minutes, and pages will be available for proofing and your approval within minutes after the file transfer has been completed.
Through InSite, you can transmit finished PDF files at any time, working when, and where it is convenient to you. This saves time in terms of the getting files to us, getting feedback on files, and dramatically reduces the time to print from file submission.
In addition, you have access to the processing logs to review file processing information. You will know immediately if everything was O.K. or specific cautions or fatal errors were found. When found, you can address these issues in your application program, and upload new versions of the pages.
How InSite Works: At your request, we create a job on InSite with processing instructions based on the color and output intent of your files. InSite creates a direct, secure connection to your job folder on our server.
You connect, sign on and upload files.
When the upload finishes, the system processes those files. While processing, information about the various elements in the files is being analyzed, and if elements are out of spec, they are flagged in the process log. Unless seriously flawed the file continues to process until finished.
The system then creates thumbnails that can be utilized in a variety of ways. They can be used to access the Smart Review function, give approvals, rejections, print out low-res PDF files of the post ripped data at your location, and just to gather information.
Smart Review is part of the program that allows in-depth viewing and analysis page by page to allow you to determine if it can be approved or if it needs to be rejected. If pages are rejected, you make the correction, then upload the replacement page.
When all pages are approved, we begin production and rapidly move the job through the plant per your schedule.
Step by step instructions for uploading, reviewing and aprroving files within Garlich's Kodak InSite Prepress Portal.
Step 1)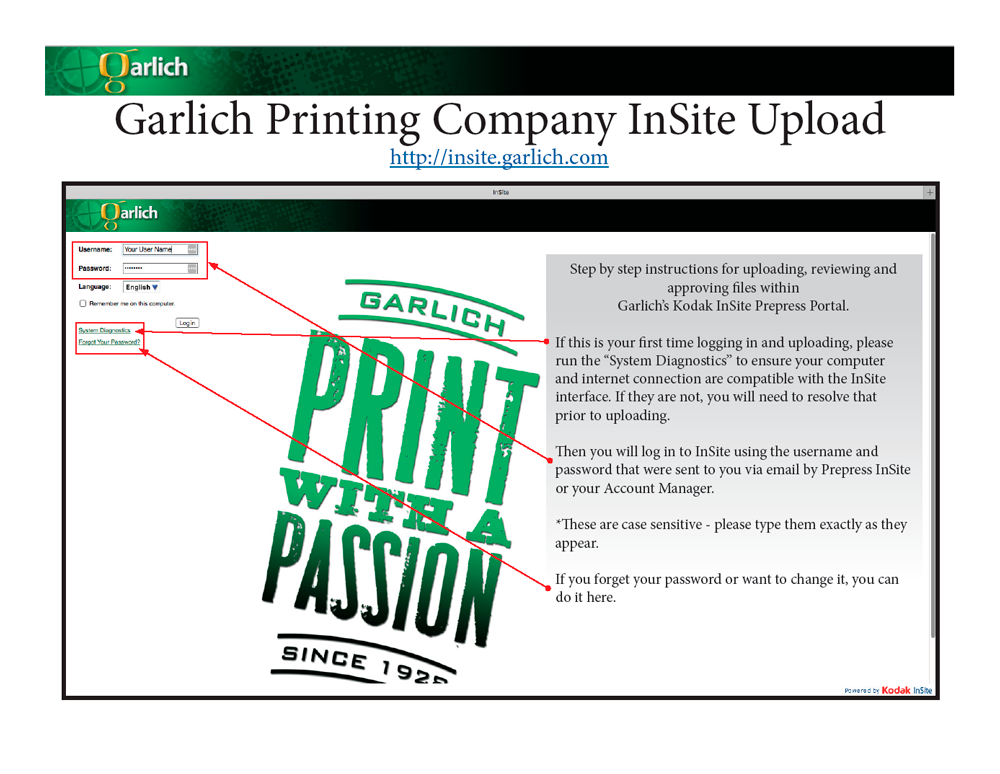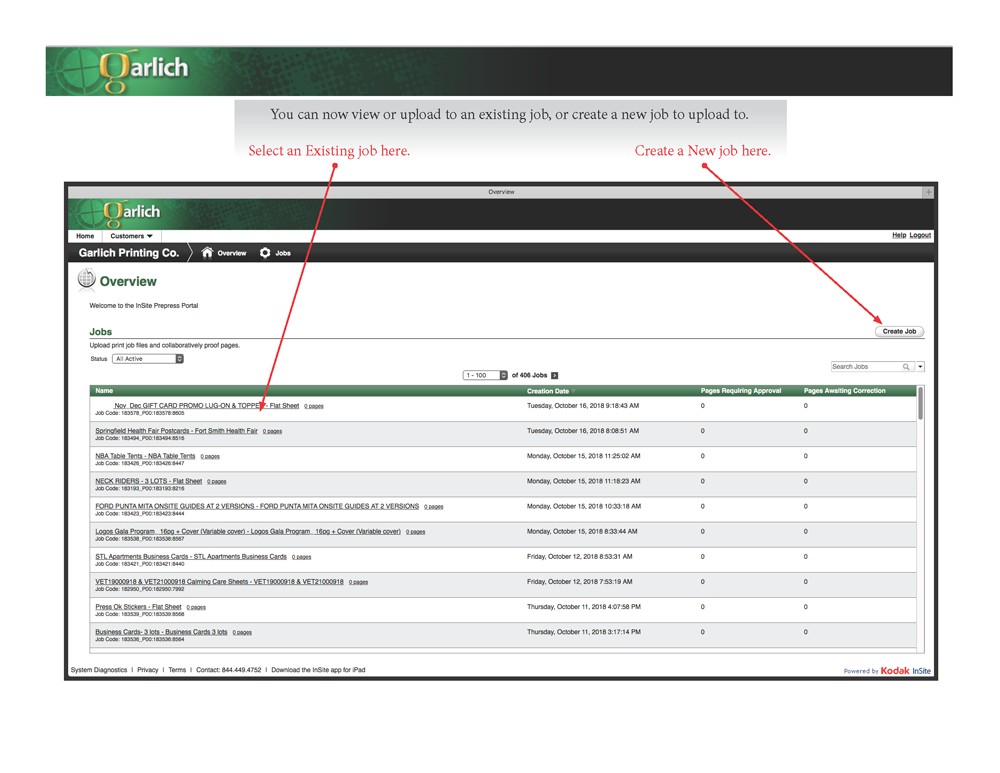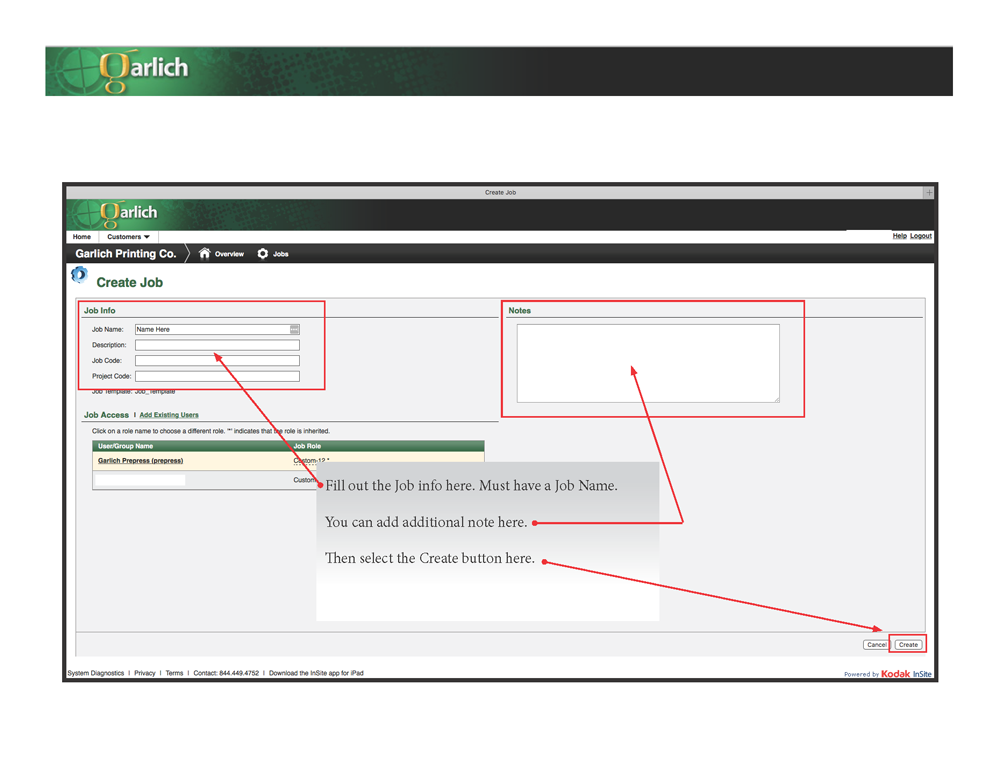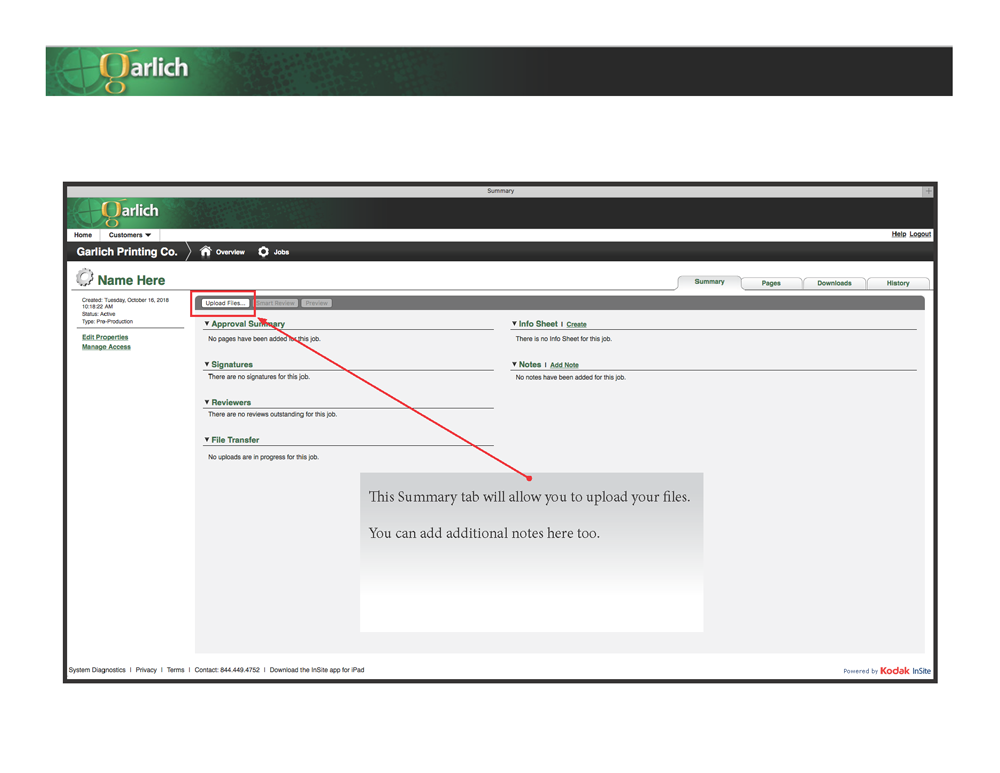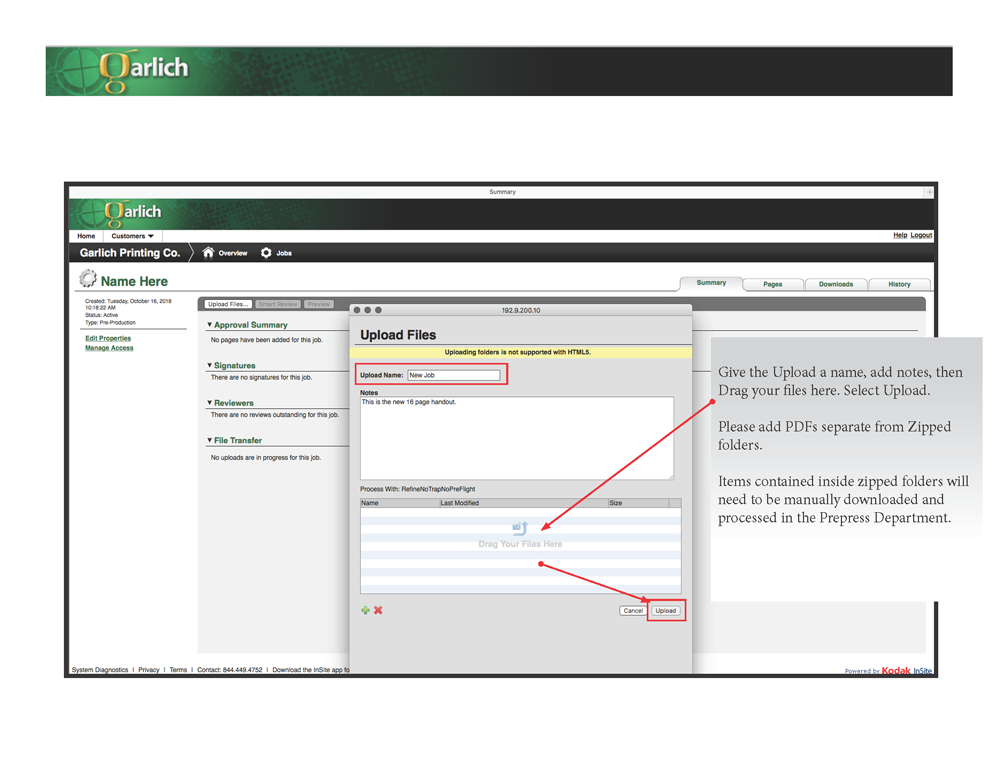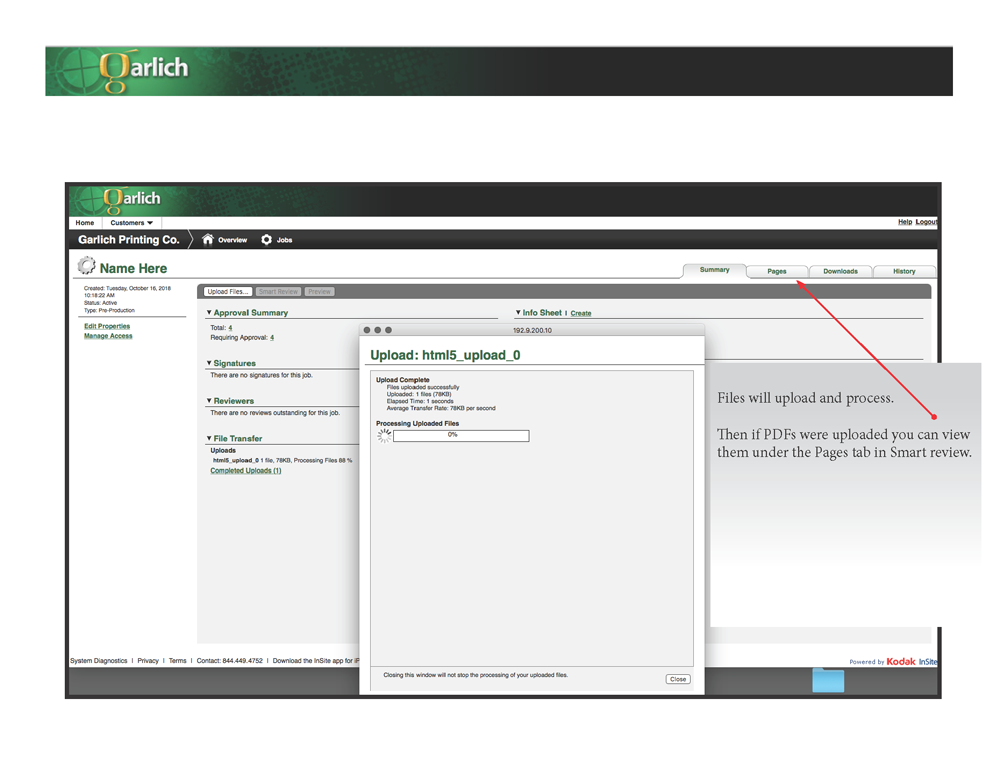 Step 7)
Preferred applications: Garlich accepts files generated from a wide variety of Macintosh and PC-compatible desktop applications. We work most efficiently in Adobe InDesign for page layout, Adobe Photoshop for raster graphics images and Adobe Illustrator for vector graphics artwork.
Our Electronic File Submission Guidelines are available on-line. You may view our Artwork Guidelines here.